Magic Lantern
Magic Lantern is a free software add-on that runs from the SD/CF card and adds new features to certain Canon EOS cameras that weren't included from the factory by Canon.

- "use with care" they say, "will void your warranty" they say, "may kill your camera" they warn.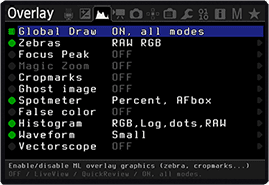 Magic Lantern is one of the most successful 'hacks' for Canon Cameras. It has opened up a wealth of tools and hacks to make RAW video a reality, to improve sound recording, to trigger the camera in new ways and to aid with composition, focussing and all manner of help using the live view overlays - something that I find so useful.

I use the overlay and shoot modules for my work. The overlay allows me to additionally sharpen the focus on the screen and with the Magic Zoom feature to instantly zoom in 10x - essential when shooting with a Tilt Shift lens that has no auto focus. The focus peaking is very useful to indicate the DOF, without pressing the DOF button which often makes the screen very dark.

A while ago, I had to do a shoot where the images needed would be in an aspect ratio of 4:1. So I made up an overlay to those dimensions and had a marker on the LCD screen to show the shape needed for the composition - much easier than using tape on the back of the camera and much less messy. I've also used the intervalometer for timelapse and even the custom bulb when I've forgotten to take my intervalometer with me.

The 5D3 has 2 memory card slots. The SD card carries the firmware, and boots from that, so should I not want Magic Lantern working for any reason, I simply remove the SD card ( there is a button combination to do the same, but I just remove the card) And I shoot to to CF card.

Some of the hacks that Magic Lantern does can be done with additional hardware, a cost implication, but some of them are simply not possible, the firmware makes your canon a very powerful tool. I've had mine "hacked" for a couple of years now, and I only updated the firmware to 123 when Magic Lantern updated the firmware to work properly.

Currently, Magic Lantern works on these cameras - the firmware is in the brackets
1100D(105), 500D(111), 50D(109), 550D(109), 5D2(212), 5D3(113), 5D3(123), 600D(102), 60D(111), 650D(104), 6D(113), 700D(113), 7D(203), EOSM(202)
and the Canon 70D is in progress
---
Here's a breakdown of what it can do.
Audio
Analog / digital gain adjustments.
Selectable input source.
Toggle wind filter.
Live audio monitoring through with headphones.
WAV recording.
Beep / test tones
Exposure
Custom Kelvin white balance.
Auto ETTR (Expose To The Right).
Exposure Lock for manual mode.
Quickly switch between two exposure presets.
Manually override exposure settings (movie mode).
Toggle exposure simulation on/off (Liveview).
Live view overlays
Zebras for under/over exposed areas.
Focus peaking for quickly checking focus..
Magic Zoom window to fine-tune focus.
Cropmark overlays for 16x9 bars or any custom shape.
Overlay a ghost image in live view.
Spotmeter in live view.
False color for precise exposure control.
RGB histogram with RAW support.
Waveform for perfect green screen lighting.
Vectorscope for color tones.
Movie
Full control over H264 bitrate.
Full control of recording framerate.
Record HDR video.
Custom vignetting for lens correction.
Record 14-bit uncompressed RAW video to your CF/SD card.
Shooting
Bracketing for exposure, flash, or depth-of-field.
In-camera intervalometer.
Custom bulb timer for extra-long exposures.
Motion detection.
Silent pictures.
Record voice tags for photos / videos.
Focus
Trap focus.
Follow focus.
Rack focus.
Custom AF patterns.
Automatic auto-focus micro-adjustment (DotTune AFMA).
Periodically Canon upgrade their firmware and this usually breaks Magic Lantern, not usually for long, but it you are using your camera with Magic Lantern installed, be careful not to upgrade the firmware until you are sure that Magic Lantern has been updated to manage that firmware.

The Magic Lantern Forum has all the questions you wanted to ask, many you'd not considered and tips, tricks, hints and ideas to utilise Magic Lantern within your photography or video work.
African Pride Fire and Ice Cape Town This is a stunning hotel, recently refurbished and makes the best milkshakes - so I'm told. One of my favouite shoots is interiors, especially when they have been carefully and attentively created, and with extensive…

After the purchase of my 24mm tilt shift lens and a superb shoot architectural and food shoot…